---
Australian Mango season launches today, with prime growing conditions and strong flowering pre-season, forecasting bumper quality crops. 
The season commences in September, with Aussies set to indulge in over 180 million delicious mangoes in the coming months.
The first tray of new season mangoes was sold at the 2022 Brisbane Produce Market Mango Auction, with proceeds going to charity.

BRISBANE, AUSTRALIA, 29 SEPTEMBER 2022: While summer is still months away, one of Australia's favourite fruits is about to hit our shelves, with the launch of Australian Mango season today. 
Following a strong flowering pre-season, mango season is officially underway and Australians can expect to taste the sunshine with fruit now hitting supermarket shelves across the country.
National distribution levels are due to reach 230,000 trays in late September - with Aussies expected to indulge in close to 180 million mangoes over the coming months.* 
"After a year of dreary weather and negative news, Australians can look forward to tasting the sunshine with the sweet tropical flavour of Australian Mangoes," said Brett Kelly, CEO of Australian Mangoes.
"The excellent growing conditions over the recent months has meant we are harvesting an abundance of fruit in prime condition. We can't wait to share these with Aussies to slice, dice and devour all the delicious, juicy goodness of our Australian Mangoes." 
The season officially launched today at the annual Brisbane Produce Market Mango Auction, raising money for children's cancer charity Redkite and The Lady Musgrave Trust for homeless women.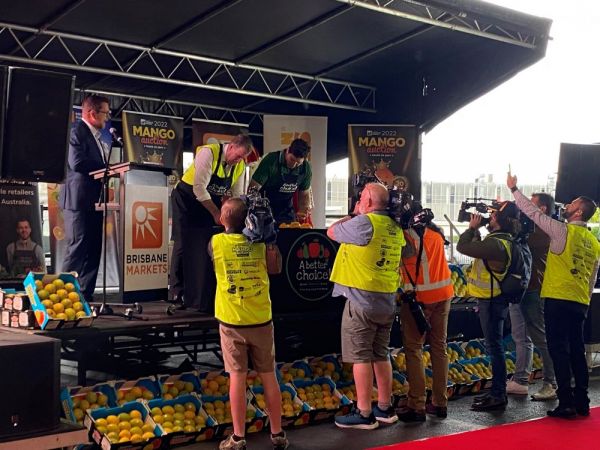 Bec and Luke McMullin, first-generation mango farmers from Riverfarm Mangoes in the Ord Valley of Western Australia, are very excited for Aussies to embrace their perfect summer fruit. 
"This season, we're encouraging Australians to try hedgehogging a mango - an easy way to prepare a mango by slicing the mango into 2 cheeks beside the seed, dicing the flesh into a crisscross pattern and then turning outward to devour the delicious and juicy taste of Australian mangoes." 
High in nutritional value, easy to prepare and so juicy and delicious, mangoes are a refreshing snack, perfect for desserts and a unique addition to savory dishes.
Why do Aussies love Mangoes**
87% of Australian Mangoes are enjoyed locally
Australians purchased over 72 million mangoes in the 2021 season, up 4% versus prior year
Over 50% of Australian households enjoyed a mango over the past year
The first mango variety shoppers can expect to see on the shelves are the delicious Kensington Pride, followed by Calypso and R2E2 in October and Honey Gold in November. The Keitt, Palmer and Kent varieties will appear from January. 
Australian Mangoes will be available mid-September at all major grocery, independent and local food markets. For more information and access to tasty and easy Mango recipes, please visit https://mangoes.net.au/
*Source: https://www.industry.mangoes.net.au/cmsb/media/forecast-6-september-2022.pdf 
**Source: Nielsen, latest 52 weeks - week ending 14/08/22