Export Assistance and Funding
There are a variety of sources available to growers and industry to assist with understanding and preparing for export. In this resource we include information and links to a variety of sources, including:
Austrade
The Australian Trade and Investment Commission – Austrade – is Australia's leading trade and investment agency.
They are experts in connecting Australian businesses to the world and the world to Australian businesses. They have a proud history of helping Australian businesses pursue their global ambitions and have the power to open doors, unlock opportunities and help Australian businesses go further, faster.
They help attract game-changing investment to Australia, to support new industries, enhance existing ones and bolster our world-class research and development – strengthening global supply chains, creating local jobs and boosting the economy. With over 80 offices around the world, their experts in Australia and abroad collaborate to provide the best 'in-country' advice.
Their diverse team, consisting of country experts, industry specialists, and trade and investment analysts, provides clients with actionable macro and micro insights. From trade and investment processes to protocols and regulation - they help Australian businesses, big or small, navigate complex overseas markets and make it easier for them to go global. At the same time, their advice, contacts and support at every step, reduce the commercial risk of exporting to overseas markets. And, their work continues. At a time of increasing global uncertainty, they are transforming our services, to help ensure Australia's growth and a global future for all.
Austrade provides a comprehensive mix of information and customised services to help you do business with overseas markets and to understand foreign regulations and business practices. This includes links to the Grants & Assistance Finder, Export Finance Australia, Export Council Australia, Business Enterprise Centres Australia and Tradestart.
Austrade in collaboration with the Department of Agriculture, Water and the Environment have developed the Austrade Export Service Platform to enable exporters to quickly access tariff rates, import country requirements and commercial insights for mangoes in 51 markets. 
The Australian Mango Industry Association, and several other stakeholders, kindly gave their time and advice to aid the development of the service. We hope you find it valuable and suggestions for improvement are welcome (a feedback function is available on the site). 
An instructional video has been developed to show new users how to use the platform and is available below: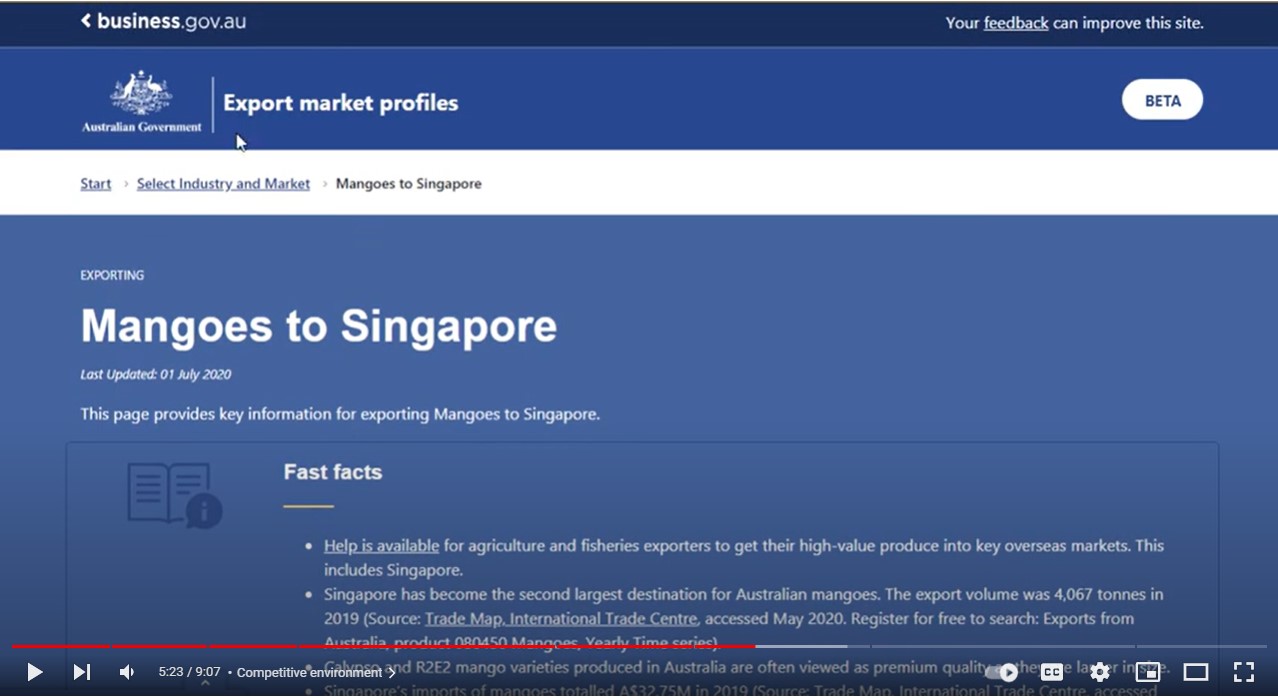 MICOR
MICOR is the website that sets out the known requirements that exporters and the Department of Agriculture, Fisheries and Forestry must meet for products and commodities to be accepted for import into specific overseas countries. 
DAFF also offer a Step by Step Export Guide which can be found here.