ARTICLE: Opening the cold chain black box
Mango exporters and interested supply chain partners recently attended a Mango Export Performance—End of Season Review organised by the Department of Agriculture and Fisheries (DAF).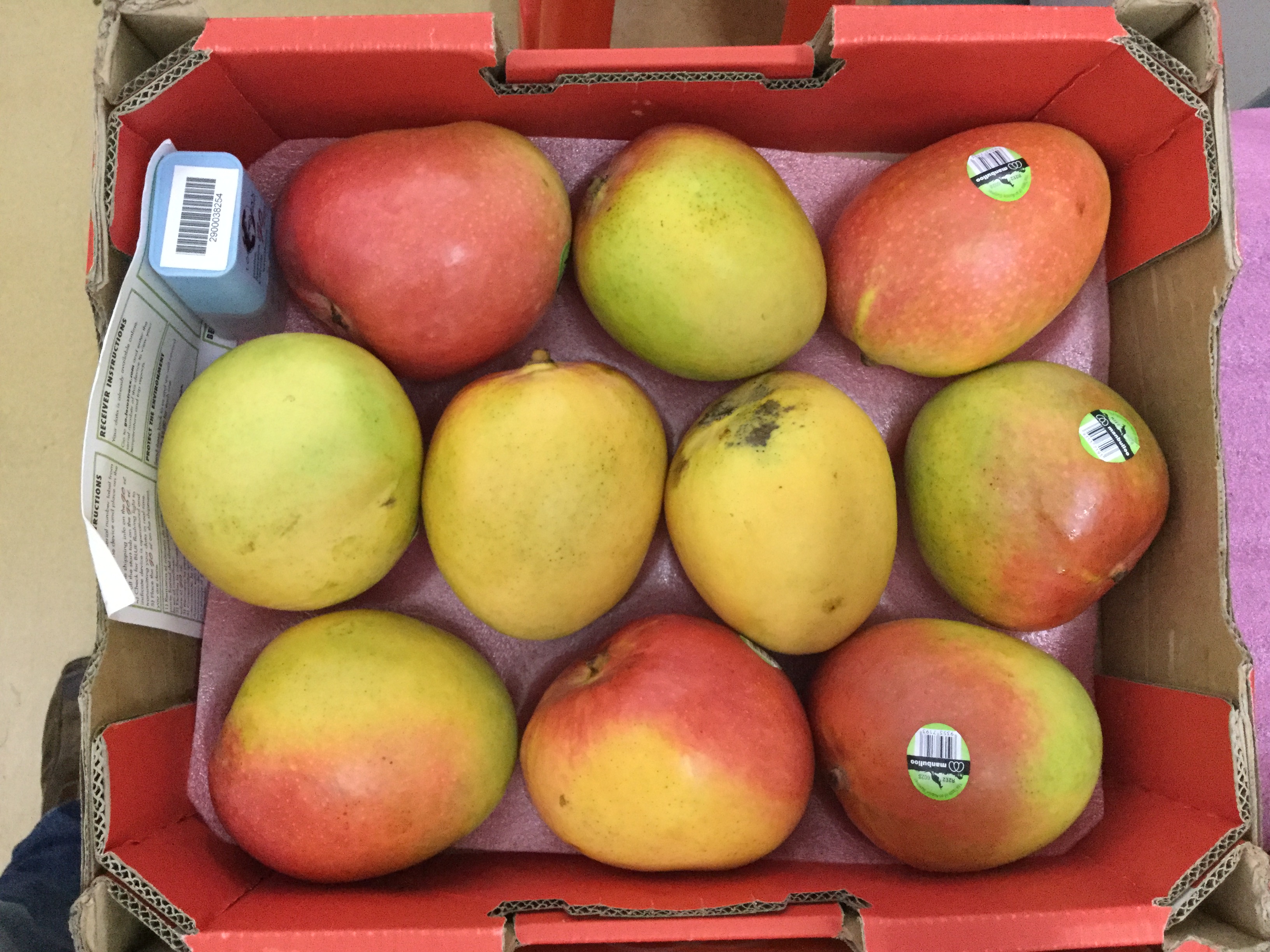 Tray of R2E2 with an Emerson Go Real-Time Temperature Tracker
The focus of DAF's presentations were on real-time cold chain temperature monitoring as a tool to help us consistently deliver quality fruit to customers. A survey carried out by DAF in 2017 indicated that 80% of exporters use USB style loggers to some degree, but most never see the data unless there is a claim. While transport and storage of mangoes should ideally be around 12°C, just what happens in export chains is a bit of a black box.
WORKING WITH EXPORTERS
Over the 19/20 season DAF worked with ten mango exporters air-freighting out of Brisbane, Sydney and Melbourne. The main destinations were Singapore and Hong Kong. The aim was to provide the exporters with experience using real time temperature loggers. Most had previously only used USB loggers. The exporters were shown how to activate and deploy the loggers as well as access real time temperature and location data using a phone app. The easy to read temperature graphs produced were examined, temperature problems identified, and potential actions discussed.
The exporters, using real-time temperature loggers, sometimes found temperature problems during the period between leaving storage and the freight forwarder at the airport. For example, the temperature graph below shows that these mangoes left the markets too warm and then continued to heat up (to 35°C) waiting at the airport. The temperature cooled during air freight, but the fruit still arrived in Singapore too warm.
The exporter's findings have parallels to work conducted by Australian Mangoes tracking domestic supply chains during the past season. In this project to date findings have indicated approximately two thirds of consignments were not following temperature best practice, with insufficient pre-cooling at the packhouse being the main problem.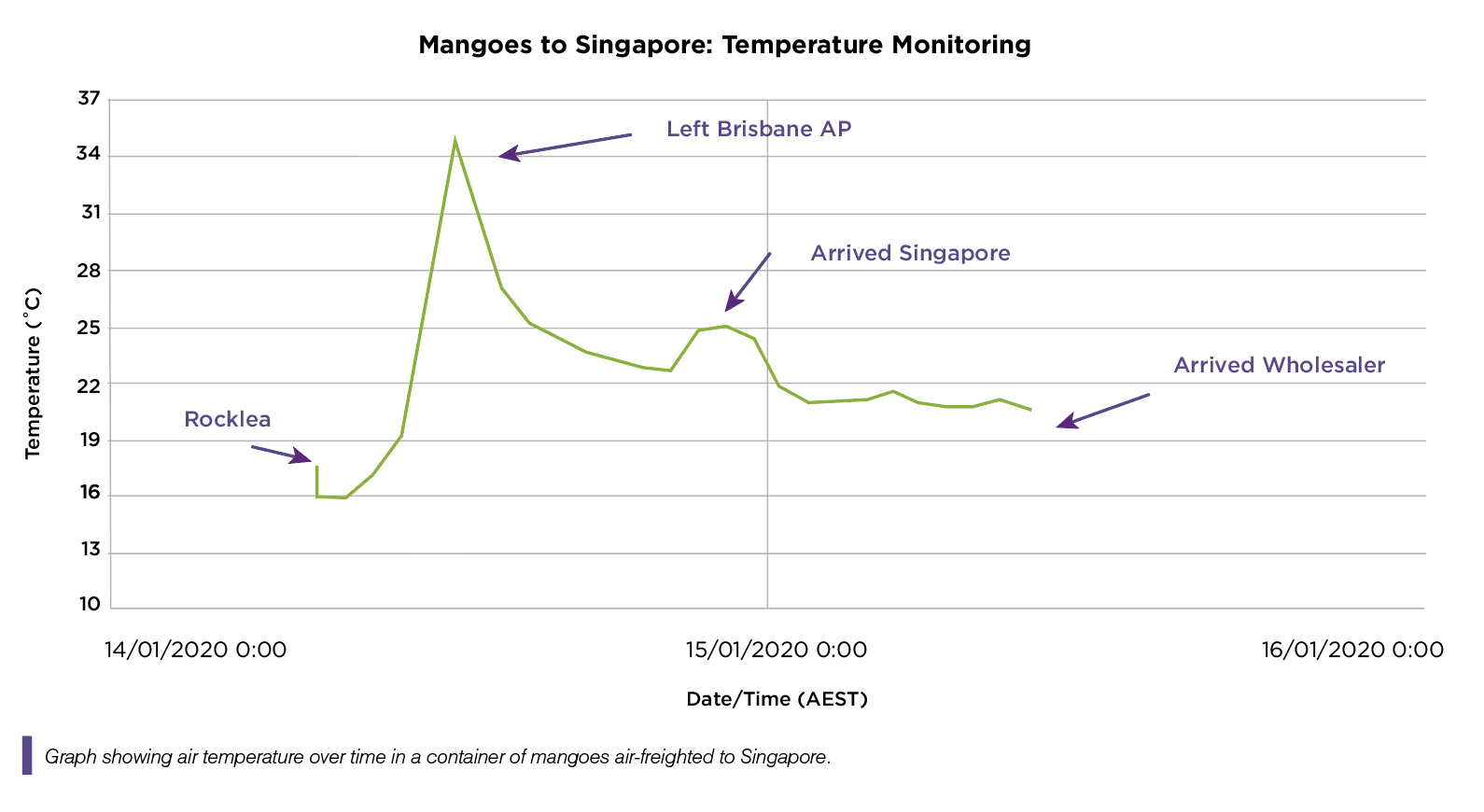 TEMPERATURE RESEARCH
Andrew Macnish (DAF) talked about the "Serviced Supply Chains" research project experience with Manbulloo mango exports. Using real-time temperature monitoring they identified three critical control points along the supply chain where fruit were not cooled enough:
• before leaving the pack shed
• at the freight forwarder
• on arrival at importer.
The real-time monitoring also highlighted instances where fruit were held too cold (i.e. less than 10̊C), particularly on arrival in the northern hemisphere during winter. Manbulloo has used the real-time data to alert their supply chain partner when the temperature was below the critical limit and hence avoid chilling injury and costly claims. 
WHAT ARE THE BENEFITS OF USING REAL-TIME TEMPERATURE LOGGERS?
• Assured of getting back the data (unlike USB loggers).
• The exporters used Emerson Go Real-Time Temperature Trackers as they are the only brand of single trip logger with airline permission (check the list of carriers).
• Easy to use phone app for tracking (quick display of temperature and location of consignment).
WHAT ELSE WAS DISCUSSED AT THE MEETING?
Other items on the meeting agenda included Market Access Protocols (Peter Creaser, Dept. of Agriculture) and Export Statistics (Robert Gray, CEO Australian Mangoes). See article 'Developing export markets' for more information. The Serviced Supply Chains project is funded by the Hort Frontiers Asian Markets Fund (project AM15002), part of the Hort Frontiers strategic partnership initiative developed by Hort Innovation, with co-investment from the Department of Agriculture and Fisheries (Queensland), Department of Jobs, Precincts and Regions (Victoria), Manbulloo (mangoes), Montague Fresh (summerfruit), Glen Grove (citrus), the Australian Government plus in-kind support from the University of Queensland and the Chinese Academy of Sciences.
For further information contact: John Agnew, (DAF Senior Horticulturist) on 0436 849 357 or john.agnew@daf.qld.gov.au.