Advances in what we know about RCD
A successful partnership between the ARC Training Centre for Innovative Horticultural Products, School of Land and Food, University of Tasmania and the Northern Territory Department of Primary Industry and Resources is driving research to help understand the causes and control of resin canal discolouration (RCD).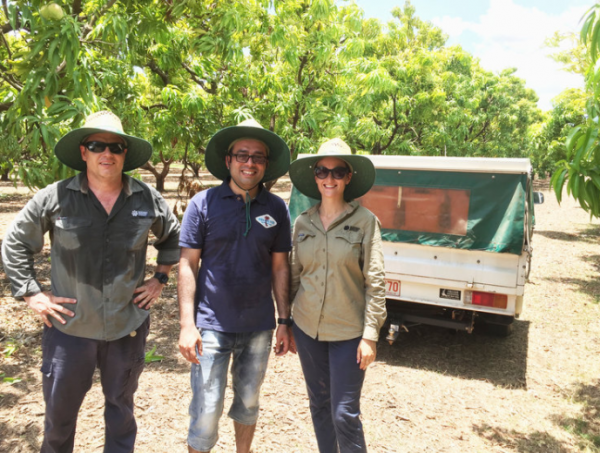 Alan Niscioli (Technical Officer, Northern Territory Government), PhD candidate Umar Muhammad and Maddison Clonan (Technical Officer, Northern Territory Government).
PhD candidate Umar Muhammad, spent two harvest seasons at the Berrimah Agricultural Laboratory in Darwin working on experiments with Dr Cameron McConchie and Dr Lucy Tran-Nguyen. During this time, he utilised molecular techniques, and pre and post-harvest protocols to study the cause and management of RCD in mango fruit.
This work has shown that contamination of RCD is due to an infection which may occur through contact with the inoculum in water. Once contaminated, all stages of the packing line in which the fruit has come into contact are potentially hosts for RCD. This means that regular and effective sanitising of harvest, packing and treatment equipment could reduce cross-contamination of RCD. Further research is needed to recommend a specific sanitiser as these are influenced by water quality, pH, concentration of active components, exposure time, potential interactions with fungicides and effects on picking and packing equipment, and cost. The effectiveness of a sanitiser system needs to be validated then regularly monitored and verified for effectiveness on an ongoing basis.
Mr Muhammad's results indicate that using a sanitiser cannot disinfest fruit that is already contaminated, but could reduce the spread through equipment and water. Other possible mechanisms for reducing contamination are: run to waste systems in harvest aids, constant monitoring of efficacy of sanitisers, regular sanitation of packing lines, reduce handling of fruit, reduce repacking of fruit along the supply chain, regular sanitising of harvest bins, eliminate contact with soil and regular sanitisation of cool storage equipment. These results will allow each area of the mango supply chain to better manage and prepare for incidences of RCD.
A key result from Mr Muhammad's study to note is the difference in resistance to RCD across cultivars. Kensington Pride and R2E2 were highly susceptible to RCD infection whilst other cultivars developed no symptoms upon infection.