How many mangoes do I have?
"How many mangoes do I have?" is a question Australian mango growers ask themselves before the start of every harvest season. Understanding the size of the crop is beneficial for planning harvest labour needs, pack-house supplies and trays, and logistics including cold room space and transport services.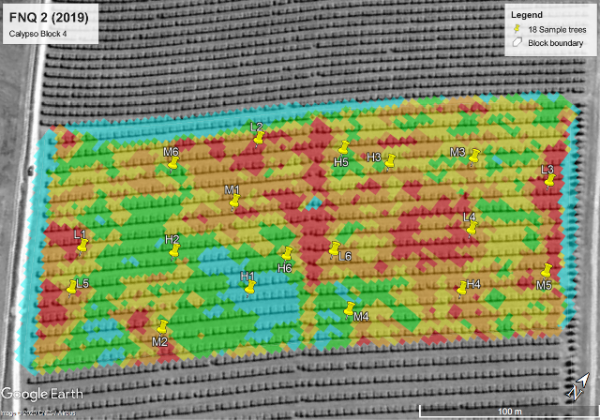 UNE Satellite image map with mango canopy health zones identified as low (red), medium (yellow/orange) and high (green, blue), with locations of 18 sample trees for manual counts.
It is also vital for wholesalers and retailers at the large southern markets, to develop marketing plans in preparation for low and high supply periods. Good forward planning enables fruit entering the market to be moved quickly in peak periods, minimising lower prices to the farmer and maintaining good quality fruit for the consumer.
Fortunately, for Australian mango growers, retailers and consumers there are a number of exciting new high-tech forecasting methods under development in a new Hort Innovation-led Rural R&D for Profit research project that promises to rapidly and accurately predict fruit yields, fruit quality and harvest times at both the paddock and regional scales. These include orchard and yield mapping via satellite imagery supported by ground-truth sampling; and the identification and counting of individual fruit on the tree using vehicle mounted cameras with advanced "shape recognition" software.
This three-year project, Multiscale monitoring tools for managing Australian tree crops – Phase II, targets five Australian fruit industries including the mango industry and is funded by the Australian Government's Rural R&D for Profit Program and Hort Innovation. The overall research lead is the University of New England's Applied Agricultural Remote Sensing Centre (UNE AARSC). The mango component of this project, led by Central Queensland University (CQU) includes a number of critical partners including, Australian Mango Industry Association (AMIA), the Northern Territory Department of Agriculture and Resources (NTDPIR), Queensland's Department of Agriculture and Fisheries (DAF) and UNE AARSC.
FOCUS OF PROJECT
Satellite Yield Forecasting
Aussie mango growers are key partners in this project, which was initiated in September 2019, following the successful results achieved through the Phase I Rural R&D for Profit Program. Very high resolution WorldView-3 satellite imagery was captured by the UNE AARSC over three mango orchards in the Northern Territory and six orchards in Queensland this season. From the imagery, maps identifying high, medium and low growth areas of tree health were derived, clearly showing growers where likely constraints to production were occurring. From these variability maps individual trees representing the varying health zones were sampled for yield, maturity and likely drivers of the reduced health by project partners CQU, AMIA, NTDPIR and DAF. Accurate yield maps and yield forecasts were derived from these ground truthed measures, for each orchard, prior to harvest. In previous year's trials, this method of yield prediction has achieved accuracies of around 90%, when compared to actual harvested data provided by growers from their pack-houses.
In-field Machine Vision
Machine vision flower and fruit load estimates have also been conducted on seven mango orchards across Queensland and the Northern Territory this season by CQU and the project partners. Cameras mounted on farm equipment (e.g. a Polaris ATV) are driven along tree rows at night, collecting multiple images of the mango canopy, which enables shape/colour recognition software to identify, count and geo-locate individual flowers or fruit. This information enables the development of orchard yield maps and the estimation of total fruit yields. Assessing the suitability of this technology to a wide range of mango orchard designs and varieties is being concurrently assessed at the DAF Walkamin Research Station. A spin-off benefit of accurate fruit geo-location is the potential for development of robotic picking technology. Development of a prototype auto-harvester developed by CQU, which incorporates cameras and fruit recognition technology with multiple arms, is continuing, with trials on two central Queensland mango orchards this season.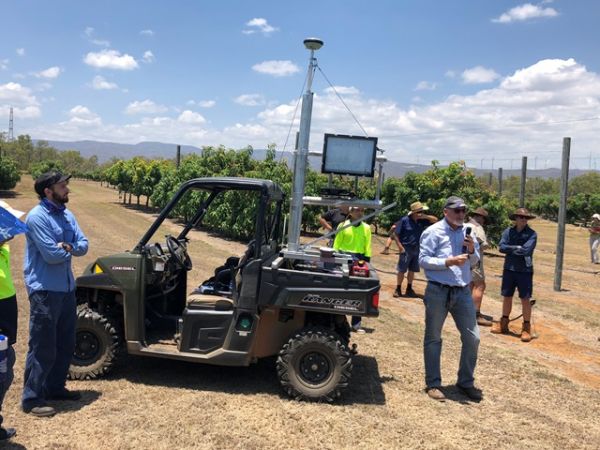 Kerry Walsh and Nick Anderson (CQU) demonstrating the machine vision equipment at a Mango Intensification Systems grower field day at the DAF Walkamin Research Station.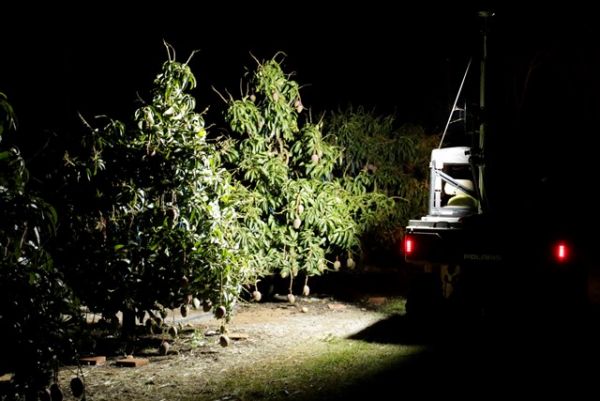 Night-time fruit counts at DAF Walkamin Research Station using in-field machine vision equipment mounted on a standard ATV.
NIR Fruit Maturity Assessment
Further refinement of technologies to aid fruit maturity assessment and the optimum timing of harvest are also being trialled this season by CQU. These include assessments of fruit dry matter and internal flesh colour via near-infrared spectrometry (using a Felix hand-held NIR gun) and the use of remotely monitored in-field temperature sensors to record cumulative field heat sums to determine timing of fruit maturity.
Mapping of all Australian mango orchards
This project is also building on the success of the 'Australian Tree Crop Rapid Response Web App' created in Phase I of this project by the Queensland Department of Environment and Science, where all commercial mango orchards more than two hectares were mapped. Since its launch in 2017, the Phase I map has been viewed over 23,000 times, supporting industry demographics and successfully applied in biosecurity preparedness and natural disaster recovery—most recently in response to the national bushfire crisis.
Under Phase II the map is being updated to include more orchards by scientists at the UNE AARSC. Importantly it will map many new mango orchards as well as smaller plantings and abandoned orchards that may serve as hosts of biosecurity pests in areas such as Queensland's Cape York Peninsula.
Industry adoption of all of these technologies to improve industry profitability is the key focus of this project. Researchers and mango growers will be working closely together over the next few years to improve the practicality, cost and accessibility of these technologies, to achieve greater wide-scale adoption by the Australian Mango Industry.
This project is being delivered by Hort Innovation—with support from the Australian Government Department of Agriculture as part of its Rural R&D for Profit Program and Central Queensland University, University of New England, Australian Mango Industry Association, Queensland Department of Agriculture and Fisheries and the Northern Territory Department of Agriculture and Resources.
Article provided by Geoff Dickinson, DAF. For more information contact: Kerry Walsh, CQU (k.walsh@cqu.edu.au), Geoff Dickinson, DAF (Geoff.dickinson@daf.qld.gov.au), Andrew Robson, UNE AARSC (arobson7@une.edu. au), Craig Shephard, UNE (cshepha2@une. edu.au), Andy Clark, DES (Andrew.Clark@ des.qld.gov.au), Bryony Hackett, AMIA (idm@mangoes.net.au) or Matt Hall, NTDPIR (Matt.Hall@nt.gov.au).