New varieties hit the shelves
Over the last few years Newmanco (a subsidiary company of Australian Mango Industry Association), as part of the National Mango Breeding Program (NMBP), has worked with interested growers to plant new varieties NMBP-1201, NMBP-1243 and NMBP-4069.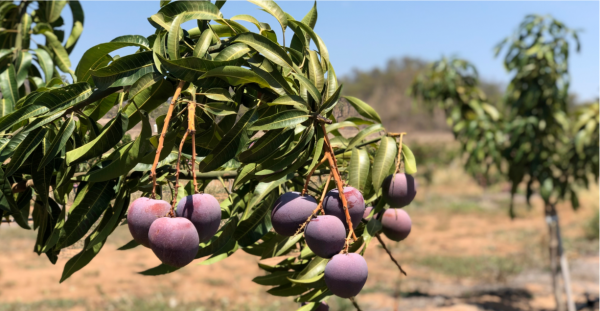 The 2019/2020 season marked the first phase of evaluating commercialisation, with the three new varieties being sent to market for the first time.
All up around 1,000 trays of the new varieties made the journey from orchards to Harris Farm Markets in Sydney and initial feedback has been largely positive.
Australian Mango Industry Association (Australian Mangoes), CEO, Robert Gray noted that, "Although there were some challenges, the high blush of new varieties was noted as a positive feature. Samples were provided to shoppers with mature fruit receiving consistently positive feedback."
Over the next few seasons as plantings mature, it is expected fruit from all participating regions will begin sending product to market, which will assist in evaluating the new varieties prospects in becoming commercialised. As part of the evaluation, both positive elements and any challenges around the new varieties will be assessed, before a decision is made on commercialisation.
Thanks to the growers, Lamanna Premier Group (ripeners) and Harris Farm Markets (retailers) for being involved in the trial this season.
COMMERCIALISATION TIMELINE
In conjunction with the in-market trials this season, there have also been taste tests conducted by The Department of Primary Industries and Regional Development (Western Australia). Results of these trials are yet to be announced.
Keep an eye out in future Australian Mangoes communication for additional announcements about the National Mango Breeding Program (NMBP). Though we have reached capacity for this phase of the project (evaluation phase) in terms of tree allocations interested growers can become involved in the next phase.
For further information about the new varieties please contact the Australian Mangoes CEO: P: 0418 737 861 or E: ceo@mangoes.net.au.