ARTICLE: Selling Australian mangoes to China directly through e-commerce
China had more than 700 million Internet users in 2017 and has emerged as the world leader in e-commerce (Marinova 2017). Increasingly, Chinese consumers are shopping online for fresh fruits and vegetables because they don't have to pay for storage and handling costs associated with traditional retail channels. This trend could point to a potential market for Australian mangoes.
In the 2016-17 season, the Department of Agriculture and Fisheries (Queensland) (DAF) and the University of Southern Queensland (USQ) worked with mango production company, Manbulloo to assess the distribution conditions and outturn quality of R2E2 mango sent through an e-commerce company called Weishang, based on the social platform WeChat. This work formed part of the Hort Innovation Serviced Supply Chains (AM15002) project.
R2E2 mango from Manbulloo in north Queensland were air freighted to Shanghai and then repacked and consigned direct to consumers across China using the Weishang platform. Five distant cities were selected because of their wide geographic range and weather conditions (Image 1). Fruit quality was assessed in Shanghai and again at each destination city upon arrival.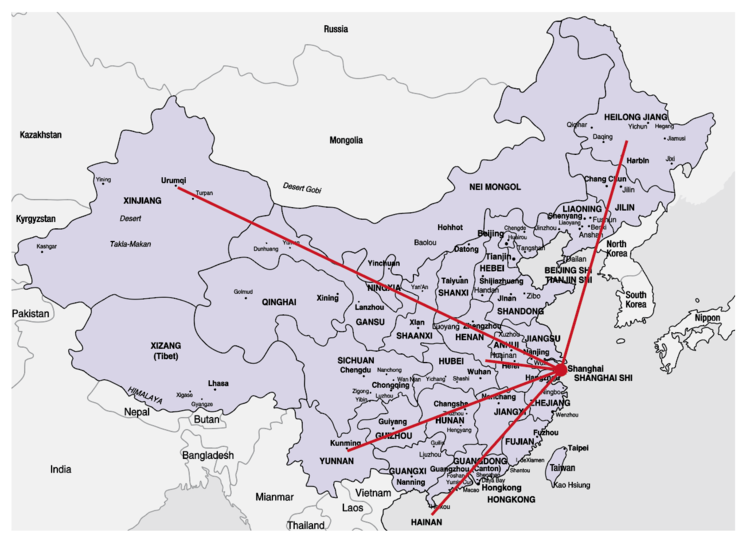 Image 1. The geographic map of five locations in relation to Shanghai.
Fruit were repacked (Image 2), with one box sent by air and one box sent by road to each location. The trial was undertaken in December 2016 and repeated in January 2017. Temperature data loggers were inserted into road parcels to monitor transit temperatures. 

Image 2. Packing of Australian mangoes from trays (left) to a padded cardboard box (right) with six fruit per box for in-country delivery in China.
The in-country delivery logistics were good with average delivery time to the consumer of two days by air and three days by road. Some of the consignments to the northwest and northeast of China took an extra day to arrive, as flagged by the courier company before shipping.
Consumers reported positive feedback on fruit quality in 90 per cent of air and 80 per cent of road transported boxes. While there was no change in fruit skin colour, there was some fruit softening during this phase.
While the boxes had some insulation in the packaging, the lack of temperature control during road freight meant that temperatures inside the boxes dropped from 15 °C to 10 °C during transit to central and southern cities and to -4 °C during transport to the northern Chinese cities. 
There was no chilling damage to fruit sent to central and southern China. However, 50 per cent of fruit transported north by road had chilling damage on arrival compared with 8 per cent of fruit sent by air. This was likely due to the longer period of cold exposure by road. 
The experiment clearly highlighted the risk of sending tropical fruit like mangoes into cold regions without adequate temperature management.
The trial reinforced some general lessons regarding the e-commerce chain, including:
The need for consistent fruit quality (e.g. skin colour at around 90 per cent yellow), so that all customers' "ready to eat" expectations are met.
Understanding ambient temperatures of the areas where the product is likely to be sent.
The importance of matching the appropriate e-commerce platform, packaging and courier practices to minimise quality loss during distribution, and
Chinese importers and retailers are eager to purchase fruit for the Chinese or Lunar New Year because of the higher prices received for the fruit as a festival gift for family or friends. This often encourages buyers to hold fruit for those higher prices, but medium firmness and good fruit quality is required.
For more information contact: Noel Ainsworth, Principal Supply Chain Horticulturist, at DAF; noel.ainsworth@daf.qld.gov.au or (07) 3708 8563.
Sources: Polina Marinova, Fortune Brainstorm Tech 2017, viewed 10 April 2018, http://fortune.com/2017/12/04/china-e-commerce-growth/ 
Acknowledgements: The Serviced Supply Chains project is funded by the Hort Frontiers Asian Markets Fund, part of the Hort Frontiers strategic partnership initiative developed by Hort Innovation, with co-investment from the Department of Agriculture and Fisheries, Queensland (DAF), Department of Economic Development, Jobs, Transport & Resources (Victoria), Manbulloo (mangoes), Montague Fresh (summerfruit), Glen Grove (citrus), the Australian Government plus in-kind support from the University of Queensland and the Chinese Academy of Sciences.
Article submitted by Yiru Chen (DAF), Tim Sun (USQ) and Noel Ainsworth (DAF).