Supply chain trial puts Mareeba pair on track
AT A GLANCE
Mareeba growers John and Debbie Nucifora participated in a trial of real-time supply chain tracking over two seasons, recording a near-perfect score on their performance in year two.
Warm loads, where products exceeded the desired temperature band, decreased from 75 per cent of tracks in 2019-20 to just 14 per cent of tracks in 2020-21. 
The data from Escavox technology has given the Nuciforas more control of their supply chain from farm to wholesaler. They are urging greater uptake of the service from distribution centre to retailer to deliver further confidence to food producers and quality assurance for consumers.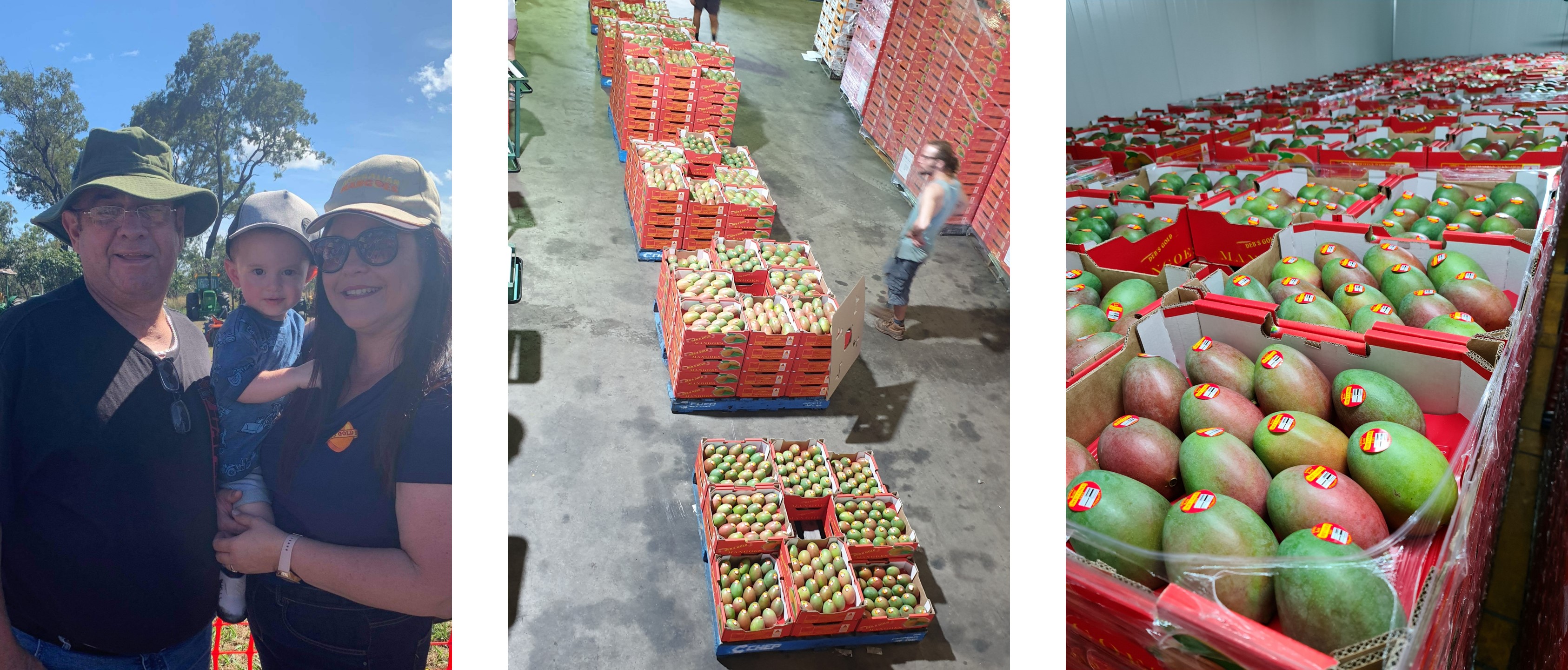 Mareeba growers John and Debbie Nucifora, have two seasons of trial data showing a near perfect management of fruit temperature throughout the supply chain.
The result demonstrates the value of benchmarking and using digital tools to verify operating procedures, assisting in continuous improvement of their business. 
As Debbie explains, she and John have been growing mangoes as a successful husband and wife partnership for more than 30 years, trading as G&D Nucifora Family Trust. 
They produce six mango varieties commercially, with a further 11 varieties under trial across their 72-hectare operation in Mareeba, an hour south-west of Cairns. 
Their research and development focus on farm is delivering a product, marketed as Deb's Gold, that meets the expectations of consumers for flavour, texture, juiciness and visual appeal. 
"We put a lot of effort into the fruit we produce and are constantly looking for ways we can improve our produce while being mindful of costs and inefficiency," Debbie said. 
"We take enormous pride in our ability as farmers to produce a quality product. When the mangoes leave our farm, they are in optimum condition." 
Debbie and John have confidence in the rigorous discipline they apply to soil, water, and crop management behind the farm-gate. However, they don't have the same confidence in the channel that delivers their product to market. 
That lack of control and desire to validate their existing operating procedures, were their driving reasons to participate in a trial of real-time supply chain tracking across two seasons from 2019 to 2021. 
Coordinated by the Australian Mango Industry Association (AMIA) as part of the levy funded project—Building Best Management Practice Capacity for the Australian Mango Industry (MG17000), the trial exclusively used the real-time tracking technology of Escavox, which captures the experience of food as it moves through the supply chain. 
From their PC or smart phone, the Nuciforas were able to watch the progress of their freight as it travelled 1,700 kilometres from their farm to their wholesaler in Sydney.
From the data conveyed from the trackers to their dashboards, they could see if their mangoes were too hot or too cold, moving, or stationary, where they were located, or if they were exposed to too much light or humidity. 
By the end of the two-season trial, the data about the Nuciforas 200,000 trays of mangoes made pleasant reading. 
The Escavox service provides customers with a Voice of Product (VOP) score for each track monitored. The VOP reflects the percentage of time products are within the desired temperature band. 
For example, during the 2019-20 season, the Nuciforas achieved a VOP of 64, meaning that for 64 per cent of the time spent in transit, their mangoes were at optimum temperature.
After making changes in consultation with their carrier, the Nuciforas recorded a VOP of 98 the following season, a 34 per cent improvement from an already high base.  
Assisted by cooling rooms within their on-farm packhouse, the Nuciforas' pre-cooling also improved from 75 per cent in 2019-2020 to 100 per cent during the 2020-21 season. 
Warm loads, where products exceeded desired temperature bands, decreased from 75 per cent of tracks (2019-20) to just 14 per cent of tracks (2020-21).
Average temperatures decreased from the 2019-20 season to the 2020-21 season, potentially increasing retail shelf-life.
The AMIA trial was the first time the Nuciforas had used real time supply chain tracking, providing information they could use to improve business practices.
"The data doesn't lie. When you're able to measure accurately, you can manage more effectively and have confidence you're taking the best approach to achieve the right result," said Debbie.

Debbie says they now have more confidence in their operation, which no longer stops at the farm gate but extends all the way to their wholesaler's warehouse.  

She says there is still a visibility gap from when their product moves to another freight forwarder or distribution centre and then into the retailer's dock. 
"But, if we start to see more uptake of real-time tracking at that end of the supply chain, then that will give us a very firm handle on quality control all the way from farm to the fresh produce section at store," she said. 
"And that will be incredibly powerful, not just for us as the producer, but also for the consumer."